In the months we spent researching and preparing to launch our marketing agency, we dedicated significant time to identifying the ways in which we wanted to differentiate within our market. As one example, we have an amazing social media management team, but so do a lot of other agencies. What would make working with us as social media partners a better business decision? And how much should companies pay for social media services?
While gathering sample quotes for a competitive analysis, we encountered vastly different price points, but all with the same traditional approach to pricing. The prospective client cases we gathered quotes for were all new or small businesses and nonprofit organizations. It was an interesting and educational experience, but in the end, companies came back with fixed monthly fees ranging from $3,600.00 to $13,000.00 per month for social media management on 2-3 channels. Whoa!
Armed with competitor information and in the spirit of being focused on our growth marketing mission, we knew right away that a more practical, affordable approach to project pricing – one where the services we offer grow with our client partners – would be a good starting point for differentiation.
So in the spirit of transparency and as a jumping off point, here are the flexible pathways client partners can take while engaging our social team to help them grow, as our services scale and grow with them.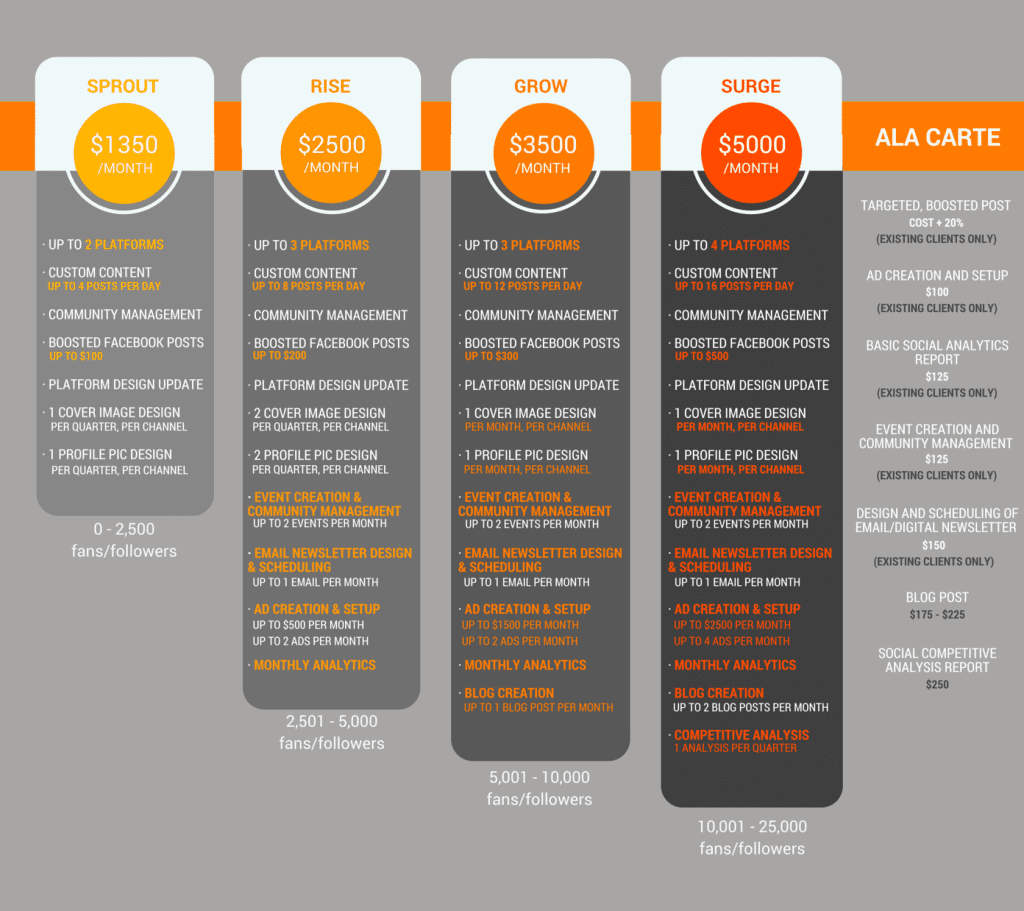 These packages aren't exhaustive, and they leave a few questions unanswered. We're okay with that, because we want to talk with our client partners, learn about their unique markets, understand their goals, and earn the opportunity to share how we work. Generally, the specific deliverables listed here are meant serve as margins for expectations, but we remain nimble and responsive to our client's ever-changing needs. Good agencies do that, and they do it without sending you an invoice for hourly overages that resemble an early 90's phone bill.
We've taken this approach with all of our services and while we're continually refining them to meet trending client demands, the feedback has been overwhelmingly positive. As a bonus, these clear, practical pricing pathways have shortened the sales processes for our client partners, allowing us to do great work and lead them to growth sooner.
Got questions? Good! Email joe@nueramarketing.com for answers.